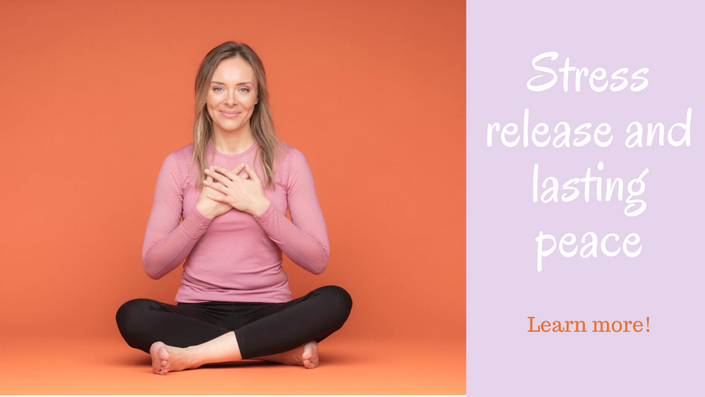 Stress release and Lasting Peace
Learn how to handle and release stress. Move into the peace you already carry within!
Release your stress and connect with your lasting peace within!
Heartfelt welcome to join this stress release course, that will carry you to the inherent peace you have inside of you already. Nothing needs to be added, you already have it inside of you. Now we will just make space for you to feel it.
Now, more than ever, are we being challenged as a humanity. As you now are on the path to the infinite peace within, you will be guided to find peace also in the most challenging and uncertain situations.
The world needs you. As you learn to stay peaceful yourself, you affect those around you in a positive, peaceful manner. You teach what you have learned forward. You become a peaceful pillar of light to others.

Each of us wants to be free and peaceful. Sometimes I hear people say that being peaceful is boring. People fear that we somehow would loose the amazing "wow" -feelings and become like robots without any emotions. This is certainly not the case. We will still feel emotions, but we learn which emotions to give our energy to, such as peace and joy.
Because, when we are peaceful we are super clear in the mind and we can hear the voice of the heart, our intuition. Becoming peaceful actually makes us more sensitive. Our lives become richer and more fulfilling.
We are aligning ourselves with the Universe, our lives flows easier and we feel that we are carried and supported in this life, by Life itself. Returning to the inherent peace allows us to hear the voice of the heart, and to start living a more intuitively guided life, content and happy. Sometimes we even get outrageously stunned with the miracles that life will offer to us, when we learn to connect to the peace within.
I strongly believe, that if you are reading this, you are ready to connect to the eternal peace you carry within. You are ready to demand what is rightfully yours, a peaceful life with arms open to the miracles life has to offer!

The course contains handy tools for your self-reflection work, to assist you to make a real transformation in your life.

THIS COURSE IS A RENEWED VERSION OF MODULE ONE OF MY PEACE AND JOY ONLINE COURSE.
WATCH THE INTRODUCTION VIDEO HERE:
IN THIS COURSE YOU WILL:
Release your stress and tension and connect with your inherent peace within. This course aims to give you instant stress release, as well as tools to make a real transformation with long-lasting effects in your life:
Recognise the benefits of stress release. This first step will give you clarity to understand the immense potential you carry within.

Release your stress with the practice of some of my best tools of yoga. This life happens through our bodies, and we need to take the best possible care of ourselves body, mind and spirit.

Strengthen your body-mind connection and build new supportive & relaxed bodily patterns. Learn to know yourself; body, mind and spirit!

Discover the ultimate tool for a stress free life. Some of the most effective tools are stunningly simple!


Experience your peace already now! I will guide you to connect with your inherent peace through a meditative visualisation experience. Peace it not something that happens then, you will experience it already now.

+BONUS video and lesson: Understand yourself, your own mind and why you think and act the way you do. It's time to free yourself from your own mind, from repeating unhealthy behaviour or addictions. You can do it!
---
PLEASE NOTE. This course is a renewed version of module one in my Peace and Joy -online course. As a BONUS for signing up to this Stress Release -course you also get to dig into the "Understand yourself" -lesson from module two of the Peace and Joy -course.
WHAT DID OTHER'S HAVE TO SAY ABOUT THE PEACE AND JOY COURSE?
Testimonial 1
"Monika Makitalo has emerged as one of the great voices for human consciousness, self awareness, & self realization.
With compassion & wisdom, her Peace & Joy course invites us to journey within, embrace our uniqueness & connect to the creative forces of the universe. Monika reveals the ecology of our heart & spirit.
Through her practical exercises & profound insights, Monika shares invaluable resources for all to experience how to incorporate more peace & joy into our life & our world."
Brian Ross, Photographer, Maui, USA
http://www.hawaiiphotographyworkshops.com
Testimonial 2

"Even if I have never met you in person, you have had a huge impact on me. I've come a long way, and I know and I feel that big changes are happening in me. I would not be here without you and your yoga classes and teachings. It has all been like the "seed" for me, and now i can finally see it growing!!
You know, I read somewhere, that if enough awareness has been born, you will attract persons into your life who has this higher level of awareness. And you attracted me to you, and I somehow saw this light, joy and warmth, that you have. And during these past days, my awareness has increased and I feel love, a love that I haven't felt in a long time. Love and good feelings, authentic joy!"
Anna Antfolk, Finland
Testimonial 3

"I loved this course and how Monika, in such a brilliant and compassionate way, shares how we can create a life full of joy and peace.
The workbooks are very cleverly made and gave the course a very practical and hands-on touch as they allowed me to reflect on my life from new interesting angels. The course gave me so many new insights and tools for the future to continue on my journey. I can strongly recommend it to everyone who want to feel more at peace and joyful in their life♥"
Pernilla Holmström, Helsinki, Finland
IN THIS STRESS RELEASE COURSE YOU RECEIVE:
Tips and ideas to help you get immediate release of stress

Tips and ideas to make a real transformation with long-lasting effects

5 INSPIRATIONAL VIDEOS AND AUDIOS to re-awaken your inner peace

BONUS video: Understand your unhealthy thinking and behavioural patterns, as well as ideas how to find freedom from your own mind.

DOWNLOADABLE AND INTERACTIVE PDF 'Workbook for Miracles', designed to assist you in your self-reflection work.

Access to CONTINOUS SUPPORT from Monika and other students, in the closed Facebook group 'Peace and Joy', exclusive only to students of my Stress Release, as well as Peace & Joy, online courses.


MOBILE CONVENIENCE — watch on your phone, tablet or computer.
I've put all my love and learned lessons into this online course. Certainly I know life is not always easy, so I will share my own personal struggles with you too. I'm not here to be a "perfect" role model, but to generously share what has helped me on my own journey.
I sincerely hope you will benefit from all the hours and hours of studies as well as loads of life experiences I've put into it all. This is how life works, it continuously gives us so many experiences to learn from, and to share forward with others.
I look forward to connect with you, and I'm grateful for the investment you are ready to make in exchange for this course, for your own wellbeing.
Send me a message info(at)monikamakitalo.com if you'd like to ask something before signing up, otherwise, see you in the course!!
Please note: By signing up to the course you will be added to my newsletter emailing list. You may of course easily unsubscribe, with a couple of clicks, any time you wish.
---
COURSE PRICE: 21,08€ (incl. VAT 24%)
[price 17€, excl. VAT 4,08€]
Price is valid for the time being, and may be changed at any time, without further notice.
---
Sincerely,
Thank you!
With love,
Monika
Your Instructor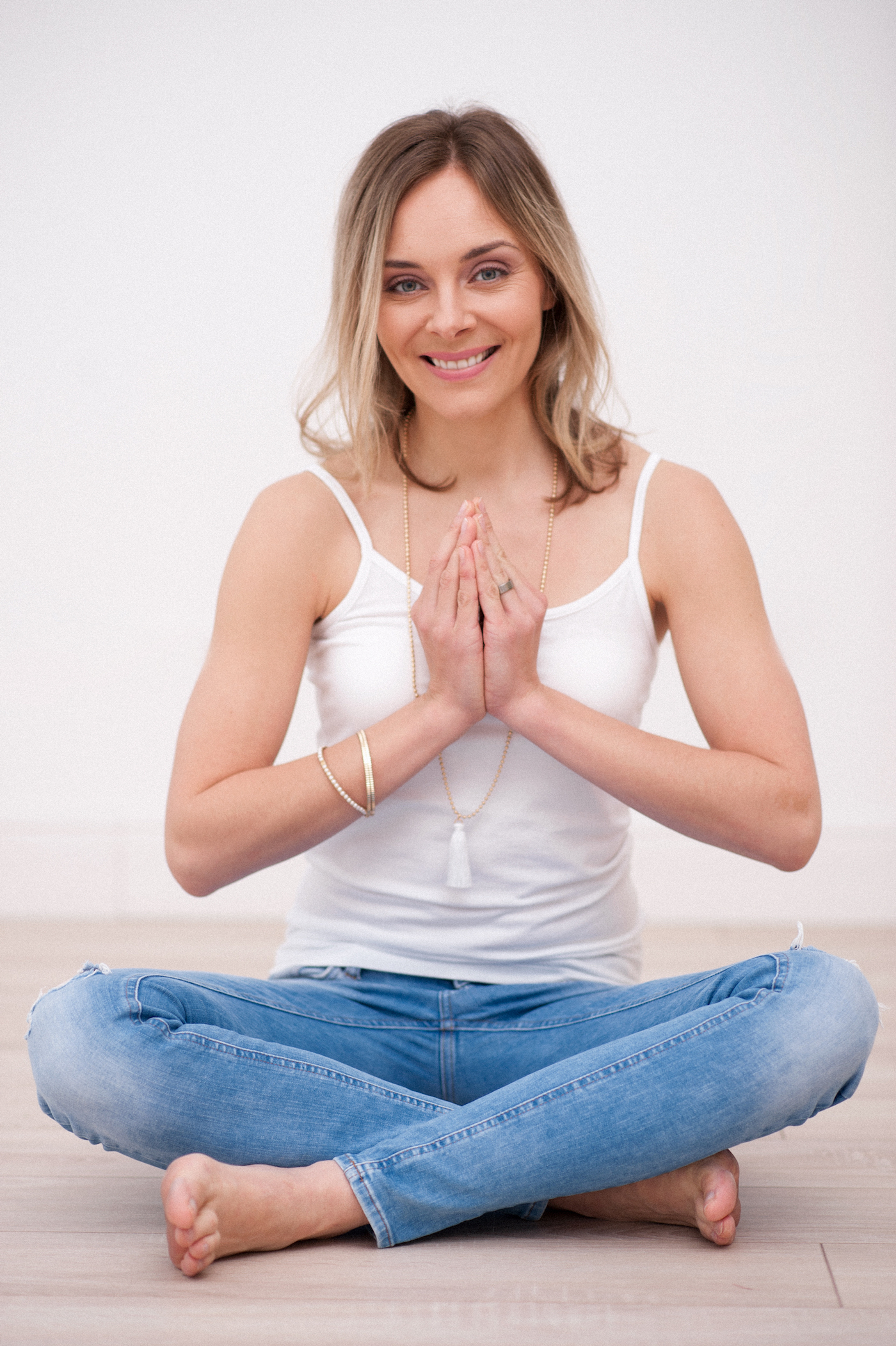 Hi Love!
I'm an author, speaker and coach about spiritual awareness and self-transformation. I share tips and ideas how to find back to your inner peace and joy. No matter what is going on in your life, or in the world. My hometown is Helsinki, Finland. I love to share what is so dear to me; how to be guided by the heart and find peace within.
All that I share lean on learned lessons from my own life journey, and of course all the wonderful teachers I've met.
Now, I've come to a point where I can feel deep gratitude for all that I've been through, and not all has been easy. There's been losses, rejections, guilt and resentments. I've also been through both depression and anxiety and I've found a wholesome way out. And I want to help you to do the same.
Everything has helped me to come to this point, where I feel I'm deeply in contact with my true Self, my heart — the light within. My own life lessons, continuous education, and daily practices, in the field of yoga, meditation and spirituality, gives me now the ability to help You find deep peace and natural joy, in this lifetime, right now!
Our essence is pure love and light. This was clearly shown to me in a life changing experience in 2014, that I share with you in the online course Peace and Joy. Beyond any reason of doubt, I know with certainty, we are eternal beings of pure divine love and light.
My life purpose is to help you recognise this infinite light, that you carry within.
"When we are deeply in touch with our hearts, and when we are able to humbly clear ourselves 'out of the way', we may all become the channel for the wisdom of sources of higher divine consciousness."
Much love and light to you,
Monika
Read more about what I can offer here on my webpages: www.monikamakitalo.com
Course Curriculum
WELCOME, INTRODUCTION AND PRACTICAL INFORMATION
Available in days
days after you enroll
THANK YOU
Available in days
days after you enroll
Frequently Asked Questions
Can I get a refund if I change my mind?
Unfortunately not, due to the instant nature of these services. But I put my heart and soul into all my services, and sincerely hope you will benefit from them in the best possible way.
Will this offer be available at a later date?
Not necessarily, so do join now when it's available.
Is there anything else I need to know?
Yes. Even if we aim to keep everything light, and not overwhelming for you, there's still a DISCLAIMER that you need to acknowledge. For courses, services and material provided by Monika Mäkitalo and team, the following disclaimer is valid: This Course is for entertainment purposes only, in accordance with Finland State Law. This Course contains the opinions and ideas of it's authors. It is intended to provide helpful and informative material on the subjects addressed in the Course. It is sold or given for free, with the understanding that the authors and publisher are not engaged in rendering medical, health, or any other kind of professional services in this Course. The listener should consult his or her medical, health or other competent, licensed professional before adopting any of the suggestions in this Course or drawing inferences from it. The authors and publishers specifically disclaim all responsibility for any liability, loss, or risk, personal or otherwise, which is incurred as a consequence, directly or indirectly, of the use and/or application of any of the contents of this Course. By enrolling in the Course, you automatically agree upon this disclaimer. Thank you!